BOOKING WITH US IS ALL ABOUT ADVANTAGES
Stubel Suites & Café: Between nature and the city 
Stubel Suites & Café invites you to discover Quito in an unbeatable environment, right where the mountains and the gardens of the Oriental Valley meet the commercial areas of the Ecuadorian capital.

Located a few minutes away from the historiccentre, our hotel offers you all services to have a pleasant stay whether you are travelling for pleasure or for business.
Enjoy the calm and elegant atmosphere in our facilities or have dinner and a drink at our restaurant with a panoramic view over the valley.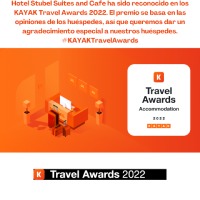 At Stubel Suites & Café we offer a wide range of services available to our guests, so that they only have to worry about enjoying their stay in Quito.

Our cafeteria is the perfect place to start the day with a delicious variety of breakfasts, and also to end your day tasting Ecuadorian gastronomy.


Do not think twice and stay with us!


8.7 8.7